Customizable High Porosity Cu Copper Foam Electrode Sheet
Introduction
Apart from Aluminum, Copper is the most widely used material for making heat sinks, because properties of copper make it suitable for the purpose.Micro-porous copper foam is like an open cell structure, with an extraordinarily large number of interconnected pores distributed uniformly throughout the base copper material.
Advantage:
1. Copper foam has great function of conducting heat and electricity, which can be used as the electrode substrate of lithium ion battery or fuel cell or Nickel zinc battery and electric double layer capacitor electrode material.
2. The copper foam can be also used as Heat sink materials, heat absorption materials, chemical catalyst carrier, electromagnetic shielding materials, filtration materials, damping materials, battery electrode materials, deadening, high-grade decorative materials.
Specifications
| | |
| --- | --- |
| Type | Open cell |
| Purity | > 99% |
| Form | Sheet or Roll, depending on size & thickness |
| Cell Size (PPI) | 10-150PPI, as per request |
| Thickness | Standard: 1-30mm Extra thin (<1mm) / Extra thick (>30mm) can be customized as request |
| Size & Shape | Standard: 500*500mm/ 200*300mm; can be made in different shape as per request |
| Porosity | 95%-98% |
| Open Cell Rate | ≥98 % |
| Volume Density | >0.1g/cm3, as per request |
| Surface Density | 200-2500 g/m ^2, as per request |
| Thermal Conductivity (Theoretical) | >6W/M.K |
| Mechanical Strength (Theoretical) | ≥2.5MPa |
| Tensile Strength (Theoretical) | 5-18MPa |
Dimension

(

Thickness* Length*Width

)
| | | |
| --- | --- | --- |
| 80um*200mm*300mm | 0.1 to 0.2mm*200mm*300mm | 0.3 to 0.5mm*200mm*300mm |
| 1mm*200mm*300mm | 2mm*200mm*300mm | 3 to 5mm*200mm*300mm |
| 6mm*200mm*300mm | 8mm*200mm*300mm | 10mm*200mm*300mm |
| 20 to 35mm*200mm*300mm | 35 to 55mm*200mm*300mm | The size can be customized |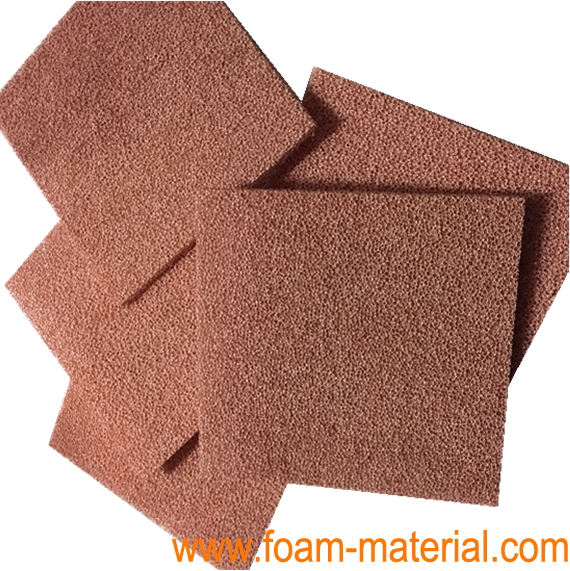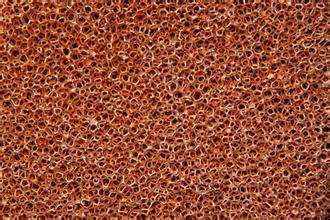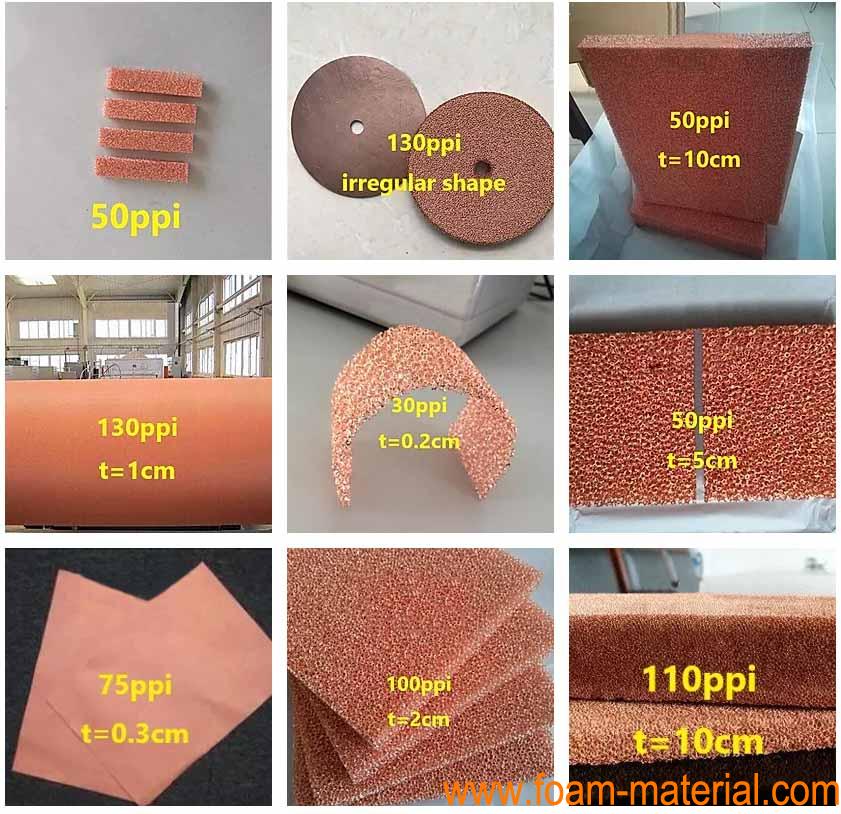 To customize various metal foams, please click the picture below for details: